In the previous post, we talked about my childhood and life before riding that led to the events that follow, now we move on to the process of learning to ride for the first time, and getting my knee down in an unorthodox way.
I was waiting for what could be one of the most pivotal phone calls of my life, and brings to mind a poem by Robert Frost, " The Road Not Taken":
"Two roads diverged in a yellow wood,
And sorry I could not travel both
And be one traveler, long I stood
And looked down one as far as I could
To where it bent in the undergrowth;
Then took the other, as just as fair,
And having perhaps the better claim,
Because it was grassy and wanted wear;
Though as for that the passing there
Had worn them really about the same,
And both that morning equally lay
In leaves no step had trodden black.
Oh, I kept the first for another day!
Yet knowing how way leads on to way,
I doubted if I should ever come back.
I shall be telling this with a sigh
Somewhere ages and ages hence:
Two roads diverged in a wood, and I—
I took the one less traveled by,
And that has made all the difference."
This poem had been a favorite of mine for many years, and I would later go on to have one of the verses tattooed on me. It's like I was standing at the divergence of two life paths, both equally exciting and full of new adventures.
About a week went by when I received the call from Deals Gap Motorcycle Resort that I was hired! I was finally going to be around more of these two wheeled propulsion machines and a step closer to owning my own. I wasn't a stranger to the Dragon, growing up in Robbinsville, I had been traveling that road my entire life, before it became the destination that it is today, we had always referred to it as " Tennessee Mountain" or "That Mountain". I took the first part of my Drivers-Ed training on Hwy 129 and Hwy 28 around by Fontana Village, it was thrilling driving around those curves for the first time, it's an experience I will never forget, I felt like such a badass getting to drive on part of this forbidden road. I would later skip school when I was having a bad day to go up there and drive in the 90's. Little did I know at the time how special and dear that road would become to me in a few short years.
There was a lot of rainfall that spring in 2003 with flooding all around the area, this would be the first time I recall seeing the flood gates open at Fontana Dam. There was so much water running through the campground, that is now a paved parking lot, that the owner at the time and the fella from behind the desk, Francois, paddled a canoe from the top of the property to the parking lot next to the gas pumps. This would be the flood that would washout part of Hwy129 south of Tapoco Lodge, at the location the Rafters call " Bear Creek Falls". When you drive by that area today, you can still see the evidence of the road repair that was done. One day after work, Francois, one of the wittiest and funniest humans I know on this earth, was going to ride over to Fontana to see the spectacle of the open flood gates, and offered to let met tag along as passenger on his Honda VFR. There was an opportunity laid out for me, to see the open flood gates and to ride a motorcycle, I was on the passenger seat with no hesitation.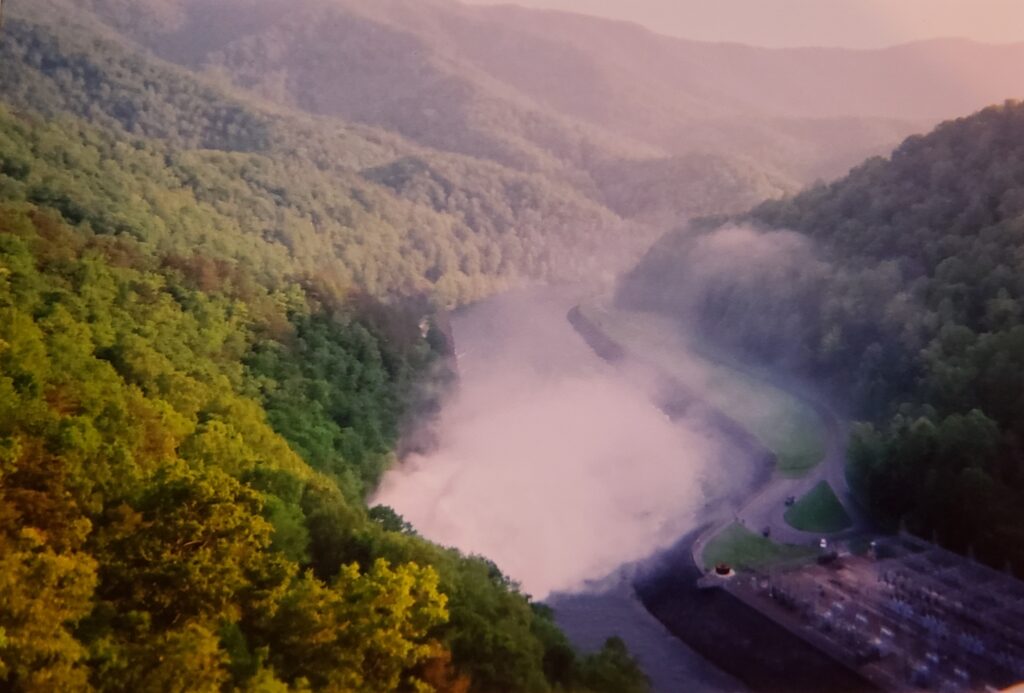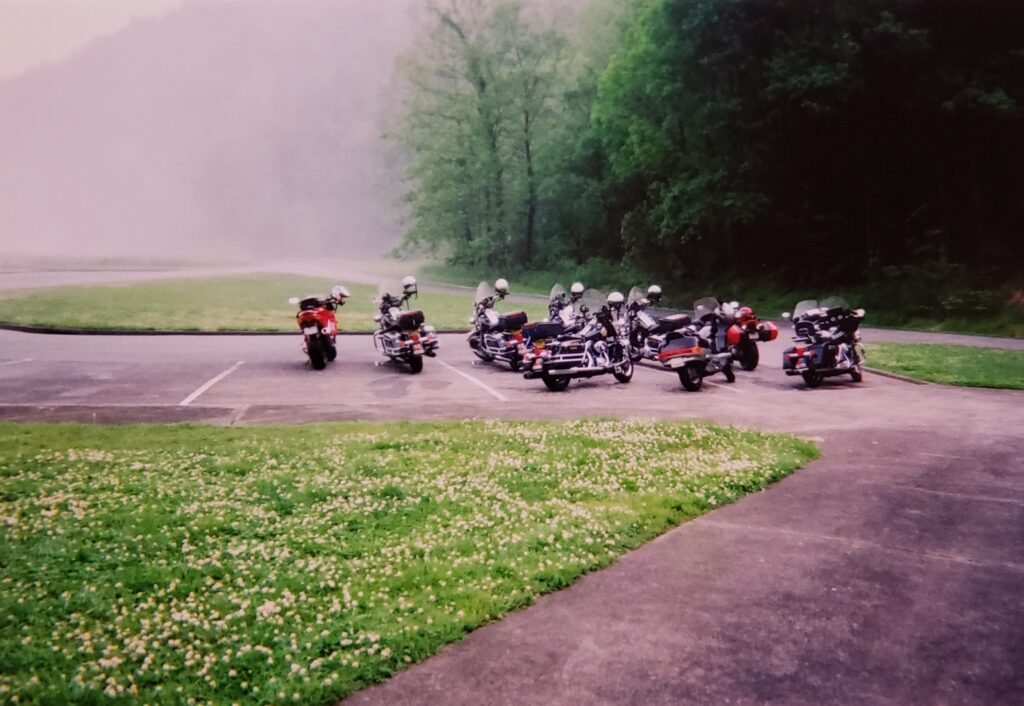 If you're interested in seeing more, here is a more recent video of the dam spilling shot by Darryl.
My journey as a motorcyclist was finally getting off the ground that summer in 2003 after the spring rains had subsided. After being hired on at DGMR, I began riding passenger with François and another employee, Mike P. They would explain braking, throttle, leaning, lines, and how to be safe. I was even more in love with the thought of being a motorcyclist, even though I hadn't ridden on my own yet. Frankly, I loved anything on wheels that would go fast. I grew up with a love for cars. I was always under the feet of my dad and two older brothers trying to help work on cars, trucks, whatever they were doing I wanted to be a part of it.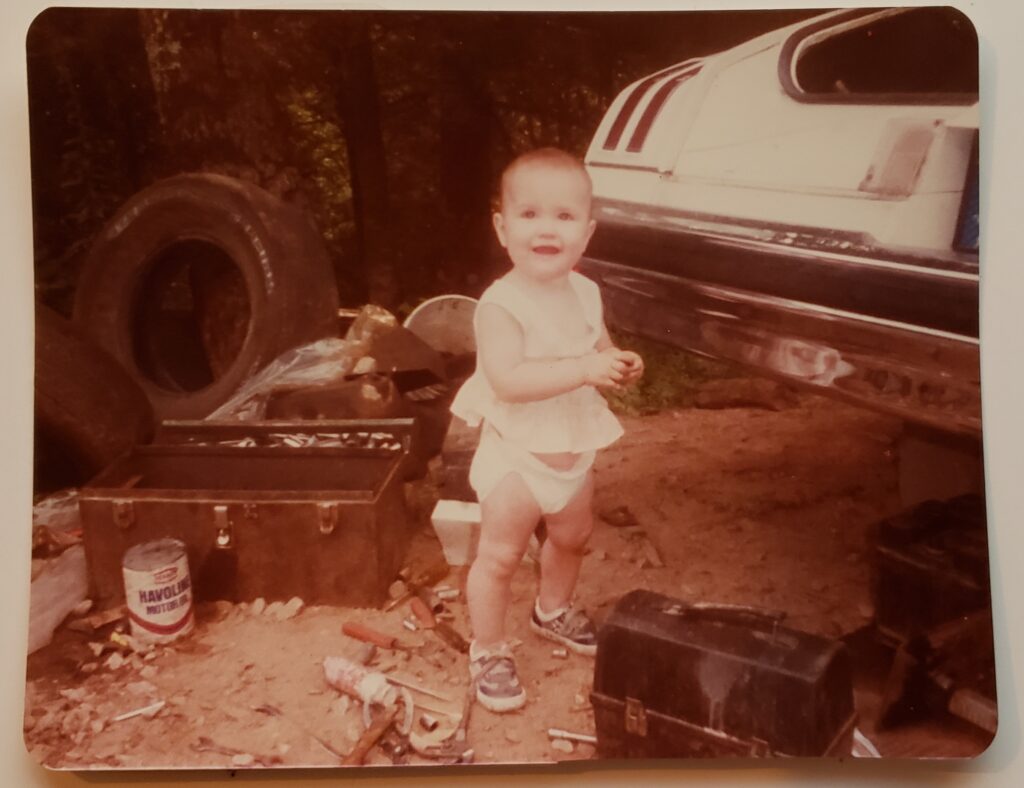 I didn't know anything about bikes, I just knew that I wanted one. Rob, the owner of the resort at the time, asked one morning if I had decided what kind of bike I wanted, it's all I had been daydreaming of for weeks now. I knew I wanted it to be red and black, my favorite colors at the time and a red bike would match my red car. With a smile he mentioned that he had a couple bikes for sale if I was interested and that one happened to be red and black, without hesitation I said yes and wanted to know what he had. There were a couple Derbi GPR50's and a Honda CBR 600 F4… I went for the Honda, and with the help of my parents, I purchased my first bike in June 2003.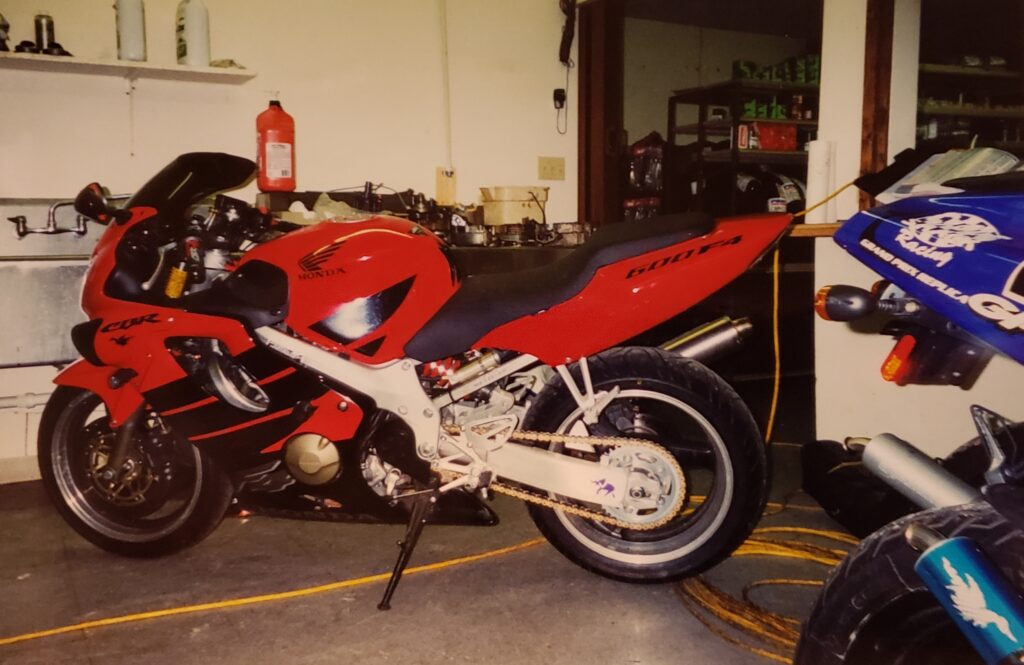 Knowing that I was new to riding, Rob had set a couple stipulations to the purchase, I had to get my permit and have some basic riding lessons before he would release the bike to me, which was totally fair I thought. The bike was kept on the property in the workshop while I worked on getting my permit and Mike taught me some basic riding skills.
I was racking up the passenger miles, when one day, Mike says to me, " I think I could drag a knee with you on the back!" Being new to the sport, he had to explain what that was, with proper protective gear, a rider can touch their knee to the pavement in a turn when they lean in to it, this concept was thrilling and crazy, I had never heard of such a thing before. He was easily able to get a knee down with me on the back and said it really felt like I wasn't even on the bike at all, that evolved in to "I think you could drag your knee from the passenger seat, do you want to give it a shot?". Keep in mind that I still have not ridden other than being a passenger at this point, but being 19 years old and an adrenaline junkie I was like "hell yeah I can!".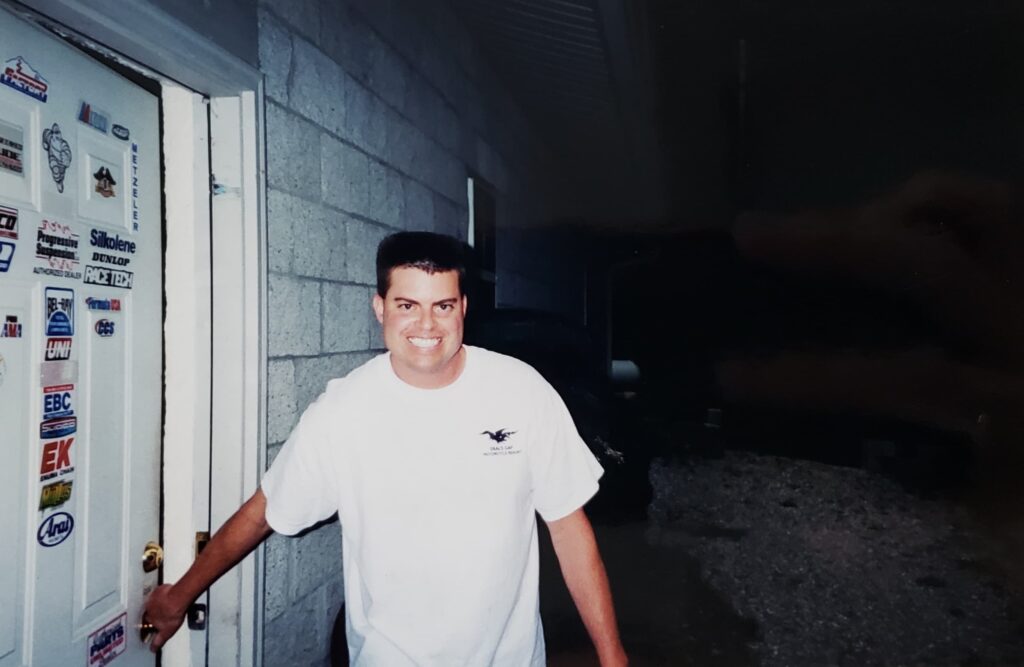 But first, it was time to get some seat time under my belt. The Deals Gap parking lot was a bit different back then, what is now paved was then a grassy camping area. There was no loading dock, there was no restaurant, there was just the store, a double-wide trailer, a maintenance shed, and the hotel. After giving me the run down again on which lever was the brake and which one was the clutch ( I drove a stick shift car at the time, so I was aware of how a clutch worked, thankfully). I remember him telling me that if at anytime I was uncomfortable, to pull the clutch in and slowly apply the brake. I would practice letting the clutch out to get the bike going and pull it back in again, rolling forward a few feet at a time. Then Mike would push me backwards to my starting position and I would do it all over again. Once I was able to get going and stop, I started going in very slow circles around the gas pumps with Mike walking next to me every step of the way. A group of his Canadian friends were in town staying at the hotel, and were all on the bench cheering me on as I learned to ride in the parking lot.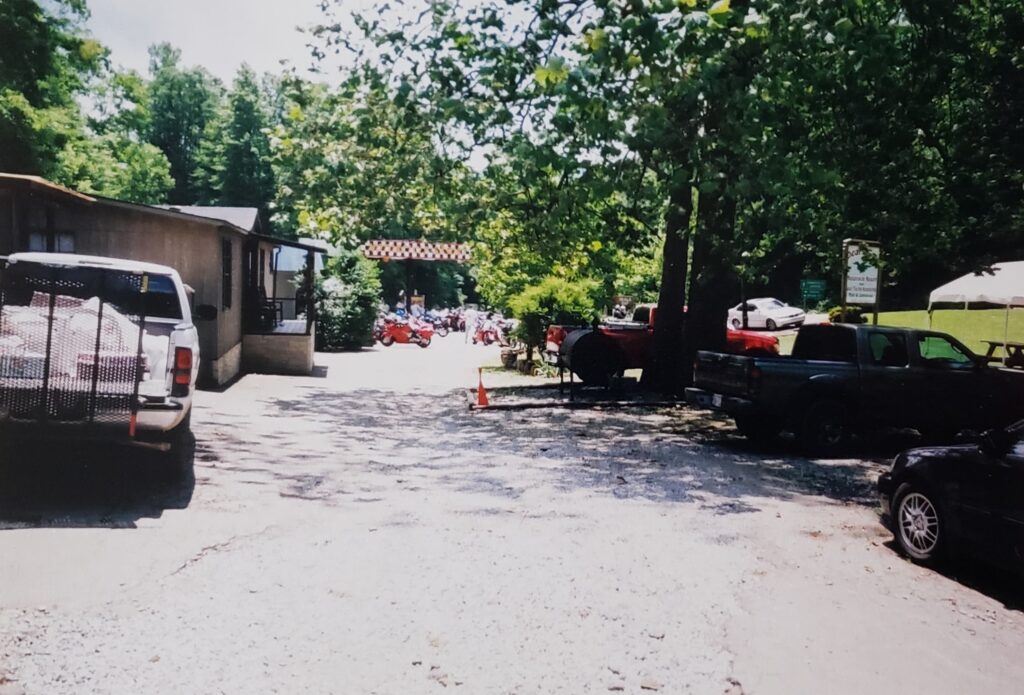 On the July 4th weekend in 2003 we set out for the double knee drag. Mike rallied his friends after work, to help and be there in the event something were to go wrong. I only had a helmet, gloves, and a jacket at this point, so one of the girls, Zee, loaned me her full leather suit so that I would have some protection. Now, Zee is a bit smaller than I was at the time and getting her leathers on, well we'll just say they were tight. It took two of them to get the pants on me as I hopped up and down, all the guys got a good laugh out of that. After wrestling with the suit, we slapped on my fresh set of knee pucks that I bought at the resort and off we went.
Our target curve was at mile marker 4, aka "Parsons Branch" turn. It was a nice consistent curve that we could easily see through and get turned around. At the time traffic in the evenings was pretty slow, and we had a lot of watchful eyes on the lookout. We made a few practice passes to warm up the tires and get a feel for the bike in the turn. Then Mike asks if I was ready to give it a try. He explained that I would need to move my butt off the seat and hang my knee out to the side. After a few passes with no success, we talked about it and determined that I would have to get off the bike and put my knee out farther than his, for it to be able to touch down. At this point I was concerned about falling off the bike, so I would hook my outer foot UNDER the foot peg.
Going into the turn Mike would set his body position up early and I would match his positioning and move out a little further, no touch down. So we would make a u-turn and go back again. I think it took about 4 passes and finally my knee slider made contact with the pavement. And Mike knew it, I could hear him yelling with excitement in his helmet and all our friends on the side of the road were cheering. There was a roar of cheer echoing off the mountains. Then we turned around and did it again and again and again. After that first touch down we were nailing it every time.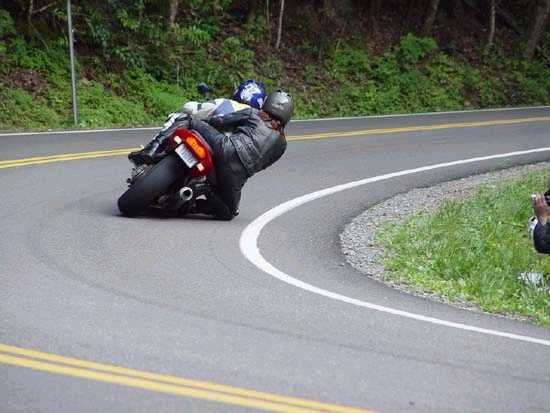 After that I was ready to ride on my own, I had all the confidence in the world, I was on an adrenaline high!
I was exhausted from the exciting day and was ready to put the bike to bed for the night. It was being stored in the workshop up the road and Mike was going to ride it up there to put it away, but I decided that I wanted to ride it up the road, even if it was a very short distance. Zee got her bike, so that she could ride next to me for support, while Mike drove his truck behind us.
Now the little driveway from the road to the shop is gravel, and I was a new rider and unaware that you had to act differently in gravel than on pavement. They had told me to stop in the road and Mike would then take the bike on to the shop, well I decided to pull off the road, because I thought there was another car behind us, not realizing it was Mike. And what do I do….I go for the front brake. I was already going like 2 mph and had my feet down to stop when the front tire dropped off the pavement, the front end tucked and into the gravel I went. I was ok, the bike was ok, it basically just fell over. It had frame sliders on it that kept it from sustaining any real damage. I brushed myself off and was thankful for the gloves I had on, they really saved my hands.
So that was my first couple days on a motorcycle that changed my life…when the motorcyclist community became a family to me and the Dragon became my world, my escape from reality. It would be the place where I would meet some of the most amazing people from all around the world, including the wonderful man that I am now married to.
Next up, we'll talk about that summer and the adventures that lead to my first ride across the Dragon.